How we started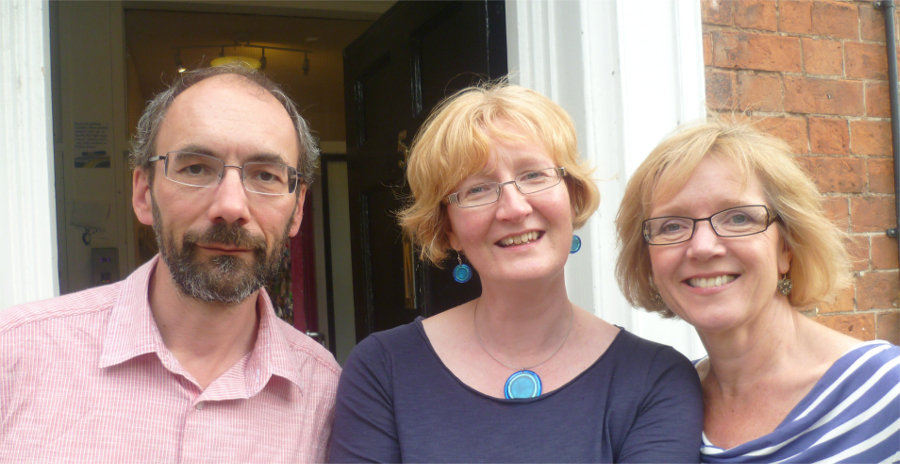 Back in 2011, friends, Corinne, Sally and Peter, teamed up with The Hive to form the Shrewsbury Film Society. Situated in the town centre, the Hive had to be the perfect venue as a not-for-profit organisation with a great location, bar, auditorium and established reputation for entertainment, arts and culture.
Those of you who regularly support us will know The Hive isn't awash with money. It would be fair to say in those early days, the technology and equipment were out-dated, with seating really only fit for a conference or school assembly. And yet despite those drawbacks, The Hive had a vibe and an ethic that felt absolutely right.
And they proved to be a great support, helping with reduced hire charges, designing the logo, hosting a web page and assisting in press releases, all at no additional cost.
Early days
On a freakishly hot September evening, Shrewsbury Film Society launched with Mid-August Lunch offering members and guests a glass of Italian wine in The Hive's courtyard, shaded by a beautiful grapevine.
Despite a very old, rickety projector (housed in a make-shift wooden box), two speakers at the front of the auditorium providing stereo sound, and a canvas sheet, complete with visible stitching, for a screen, the audience appeared to love it!
Our first audience totalled 27, with five further films bringing in similar numbers.
Some much needed funding comes along
Despite the reasonable success of season 1, the accounts were never going to stretch to some much needed investment, so their attention was drawn to community funds and bid writing.
Thanks to the Local Joint Committee of Shropshire Council, the shabby piece of canvas masquerading as a screen was replaced with a fully automated projector screen thanks to a generous grant of £2,000.
Encouraged, they approached the Co-operative Community fund for a new projector. £1,350 was granted in August 2012, and a month later a projector and DVD/Bluray player were purchased and fitted by Peter to keep down the costs.
Although it seemed highly unlikely that the Society would be lucky a third time, three months later, the Shropshire Council once again recognised the value of the Film Society and invested a further £1,400. Now, by putting in an additional £500 from the Society's funds, they were able to purchase a complete 7.1 channel surround-sound system. This time Peter was ably assisted by two willing volunteer members who worked flat out for two days in early January 2013 to install the equipment.
In less than a year, Shrewsbury Film Society had upped their game, offering a true cinematic experience!